When you have a lot more money than you need on the most basic of your needs, you start to cater to your hobbies and interests. One of those common hobbies is being a collector. For a lot of sports fans, particularly fans of baseball, one of such noteworthy objects worthy of collection are baseball cards – memorabilia that features baseball stars over the years. While some baseball cards are cheap and available for sale at 10 cents, some of them are expensive, costing hundreds of thousands when they are placed for auction.
So many things contribute to the value of a baseball card, such as the player on it, the rarity of the card, and its current condition. If a card achieves the holy trifecta of being a legendary baseball player, is ultra-rare, and in good condition, it is likely to fetch a lot of money at auction.
We compiled a top ten list of some of the most expensive baseball cards ever sold at auction. Check them out below.
Most Expensive Baseball Cards Ever Sold
1. Honus Wagner 1909-11 T206 – $3.12 million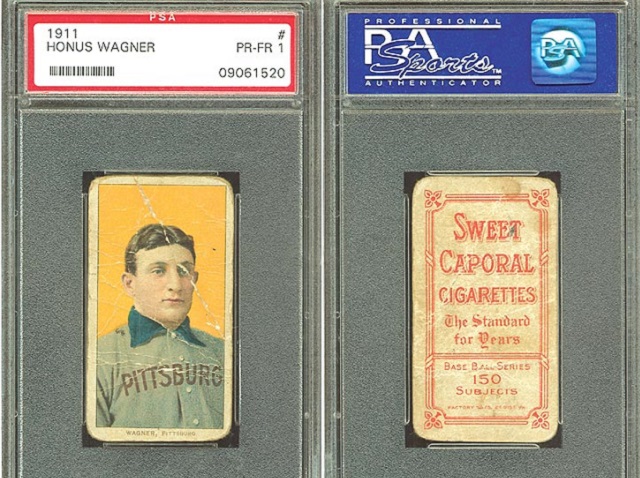 To non-baseball fans and non-collectors of baseball cards, the idea of a baseball card fetching more than $3 million at an auction is possibly one of the most ridiculous things anyone could say. But, as they say, sometimes the truth is stranger than fiction.
In 2016, a record that is unlikely to be broken for a long time was set when the Honus Wagner 1909-11 T206 card was sold in an auction for $3.12 million.
The baseball card, which featured Honus Wagner, is considered to be even more famous than the player on it. Considered the greatest shortstop in the history of the sport, there are only 50 of these Honus Wagner cards believed to be in existence.
So why does it cost so much? According to the popular legend, the card was made by the American Tobacco Company. However, Honus Wagner was not in support of tobacco, and thus, asked the company to stop using his likeness to market their products.
Others believe that he shut down the production of the card because he wanted to be paid more for his likeness. Whatever is real or fake about the card, one thing is true – the Honus Wagner 1909-11 T206 is the most expensive baseball card ever sold.
2. 1952 Topps Mickey Mantle – $1.13 million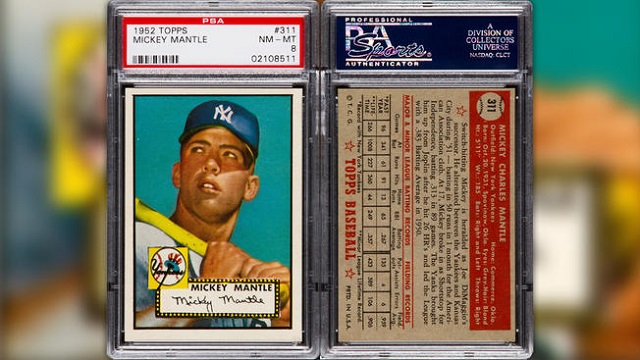 The Professional Sports Authenticator, here forth known as the PSA, is the institution known for examining and grading the quality of baseball cards. It grades on a scale of 1-10, with 1 representing poor while 10 represents gem mint.
The 1952 Topps Mickey Mantle is one of the few cards to make this list with an exceptionally high grade of 8. It was sold in 2018 for a record price of $1.13 million, becoming the second card to fetch the highest price at auction.
While Mickey Mantle would go on to become one of baseball's most legendary and iconic players, in 1952, his card was one of the most unsought cards in the world. So much that three garbage trucks of the cards were dumped into the ocean in 1960.
Decades after, when his name had risen in value in the annals of baseball history, his card became one of the most valuable items a person could own. In 2018, Evan Mathis enjoyed that change in value when he sold it for $1.13 million in November 2018.
3. 1951 Bowman Mickey Mantle – $750,000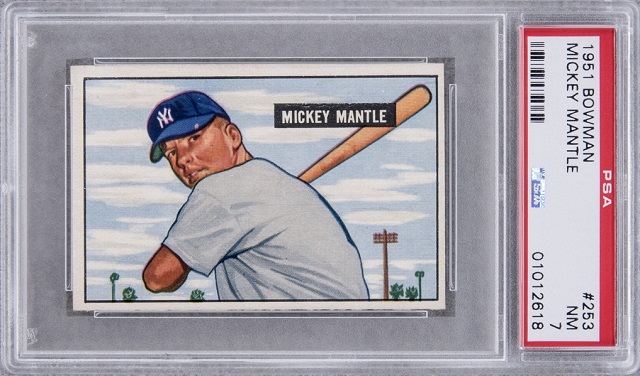 The first most expensive baseball card ever sold at auction outside of the $1 million club is Mickey Mantle's 1951 Bowman card.
Even though Mickey Mantle reportedly never earned up to $90,000 in yearly earnings during his career, his card became one of the most valuable items among baseball card collectors after they became a thing in the 1980s.
As one of the most coveted player cards to own among collectors, it is no surprise that the 1951 Bowman Mickey Mantle makes it onto this list. It had a PSA score of 9, one of the perfect looking cards on this list, and fetched $750,000 at an auction in April 2018.
4. 1916 Sporting News Babe Ruth – $717,000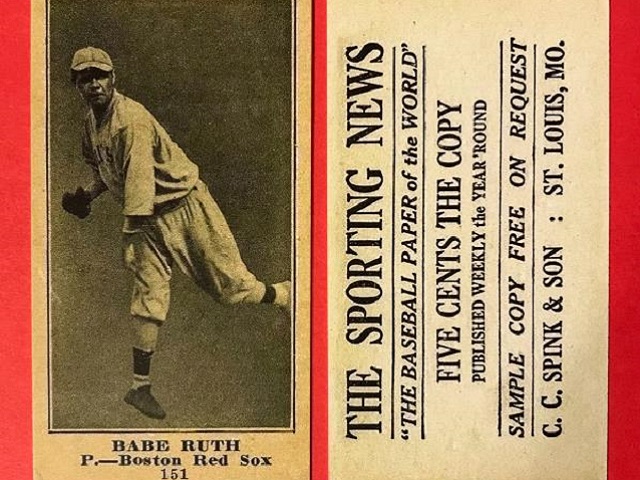 Babe Ruth might be universally considered to be the greatest baseball player in the history of the sport. And while that does not translate to the number one spot on this list, two of his cards make the top ten among some of the expensive baseball cards ever sold.
The first one is his rookie card, the 1916 Sporting News Babe Ruth, which sold for $717,000 in 2016. It is an untraditional card that doubled as a business card and was printed by Felix Mendelsohn.
While there are a number of the 1916 Babe Ruth card that featured several businesses, the card featuring Sporting News is the most sought after of this gem. It is why it commanded a hefty $717,000 when it was put up for auction in 2016.
5. 1963 Topps Pete Rose – $717,000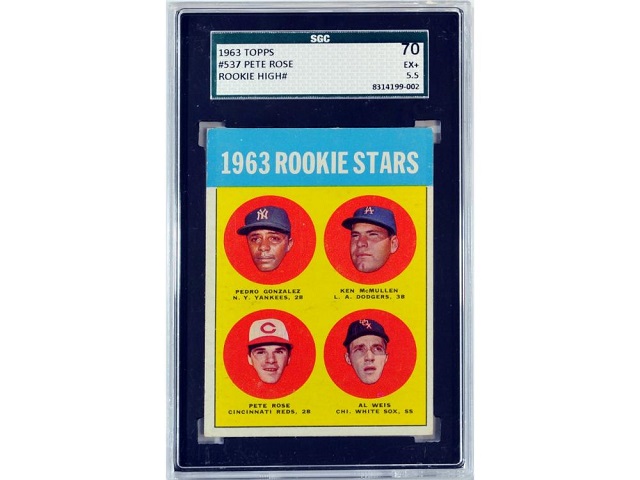 Pete Rose himself may have been banned from the sport for life and is unable to earn money as a player in baseball. However, his cards continue to command endless desire by collectors and fans. Enough for them to shell out $717,000 to own one.
The card attained its place on this list in August 2016 when it tied with Babe Ruth's rookie card for the top five spots among the most expensive baseball cards ever sold at auction.
Although the card itself does not possess the quality of rarity, it has a PSA rating of 10, making it a Gem Mint. According to the PSA, only this particular card has achieved that rating out of more than 3,700 rated Pete Rose cards.
6. 1909 T206 Eddie Plank – $700,000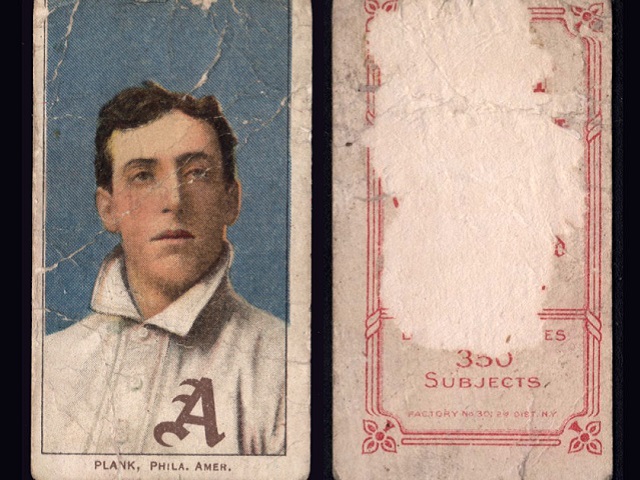 Number six on this exclusive list is a return to value achieved through rarity. The 1909 T206 Eddie Plank is one of the rarest cards in existence. It is believed that there are only 75 of them in existence, and one of them sold commanded an impressive amount of $700,000 when it was placed on sale.
As for why the 1909 T206 Eddie Plank card is a rare piece of among baseball cards, speculation abounds. While many believed it was shut down because Eddie Plank was famously anti-tobacco, many believe it was a down to money. According to the rumor, he wanted to earn more for his likeness.
Whatever the reason might be, one thing is for sure. The few who own this card have a small fortune on their hands.
7. 1909 American Caramel E90-1 Joe Jackson – $667,149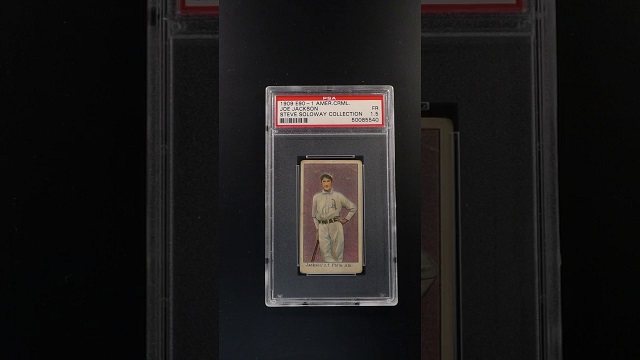 Joe Jackson is another famous name in the history of baseball. Therefore, it comes as no surprise that one of the sport's most controversial figures has his place among the most expensive baseball cards ever sold.
Despite the fact his baseball career came to an end off the back of a gambling scandal, his card is still one of the most sought after baseball cards among collectors. Specifically, the 1909 E90-1 Joe Jackson card, which came with American Caramel, fetched a record price of $667,149 at an auction in 2016.
The card was released as part of a trend in the early 20th century when baseball cards were attached to products like cigarettes and candy.
Aside from its rarity, the card also had a PSA grade of 8, further increasing its value.
8. 1909 T206 Sherry Magee's Wrongly Printed Card – $660,000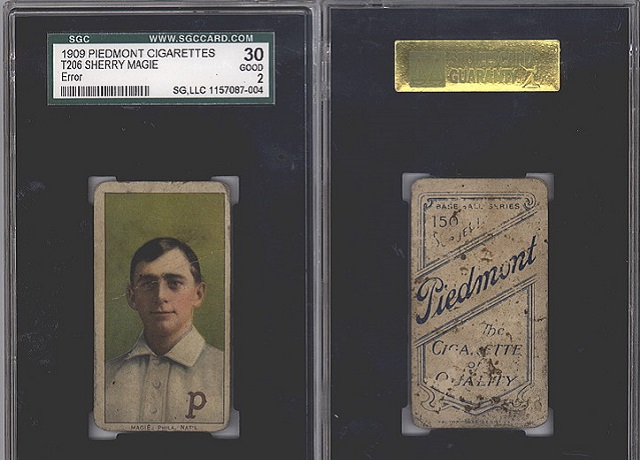 While he might not be up there in reputation with the likes of Babe Ruth and Mickey Mantle, Sherry Magee was a respected and talented baseball player.
But achieving personal records such as leading the national league in RBI four different times is not the reason why his card made it on this list. Instead, it is the fact that when it was initially printed, his name was spelled Magie rather than Magee.
While that error was promptly corrected, the few cards that had made it into circulation later became some of the most valuable and celebrated cards in the sport. That fact was confirmed when it sold for $660,000 in an auction in September 2018.
It is one of the rare moments when a clerical mistake turned out to be one of the most appreciated incidents in history.
See Also: 15 Richest Baseball Players In The World Right Now
9. 1914 Baltimore News Babe Ruth – $575,000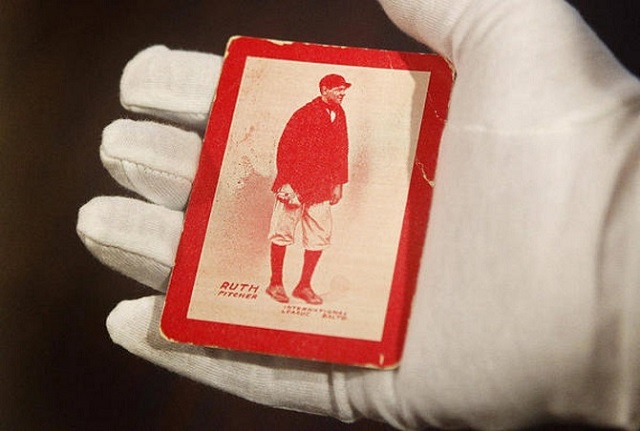 The second Babe Ruth card to make this list squeezes in at number nine for $575,000. The card is a likeness of the baseball legend during his minor league days as a player for the Baltimore Orioles.
Aside from the value of the player on the card, it also enjoys an extreme level of rarity, with just ten of them believed to be in existence. Although it has a low PSA grade of 2, the 1914 Baltimore News Babe Ruth was still able to fetch a remarkable $575,000 when it was put up for sale in 2012.
10. 1909 T206 Ty Cobb (Bat Off Shoulder) – $488,425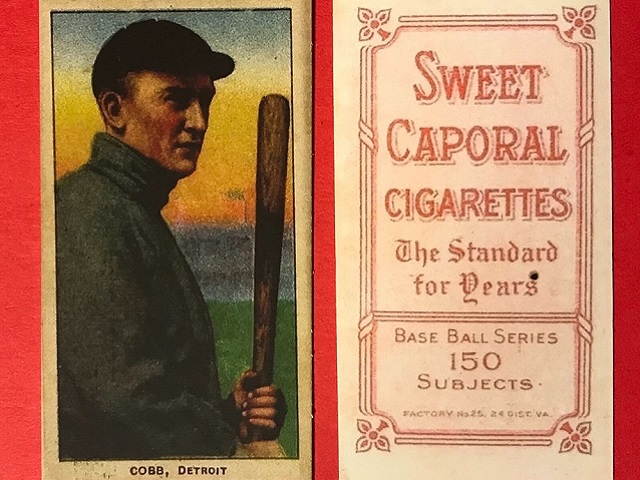 Wrapping up the top ten of the most expensive baseball cards ever sold at an auction is another card from the early 20th century, one of the oldest cards in existence.
The 1909 T206 Ty Cobb card is one of four cards in a landmark T206 set, and only three of them have been graded by the PSA, with this particular one fetching a high grade of 9. A very impressive grade for a card that is more than a century old.
It is why when it was put up for auction in August 2016, it fetched a remarkable price of $488,425, becoming one of the priciest cards ever sold.