The family pedigree is an important part of everyone's life which should not be ignored. While some people are aware of their family trees, others live in the dark about who they are or where they come from. It is fascinating to discover that many celebrities who are US citizens are actually from different parts of the world.
Most of these celebrities may not look Asian in any way, but when you delve into their heritage, you will discover the Asian blood running through their lineage. From Chinese to Japanese, Korean, and Filipino, below are American celebrities of Asian descent.
Meet American Celebrities of Asian Ancestry
1. Naomi Campbell
British-born top model Naomi Elaine Campbel is part Jamaican part Chinese. She was born in London in May 1970 to a Jamaican woman and a half-Jamaican, half-Chinese father whom she has never met. Naomi has always used the surname of her mother's second husband, Campbell, instead of her father's surname, Ming.
2. Dean Cain
Dean Cain is best known as Superman in the TV series, Lois & Clark. He was born in July 1966 as Dean George Tanaka which suggests his Asian roots; his paternal grandfather, Mr. Tanaka, was Japanese. Dean Cain is also partly French-Canadian, Irish, and Welsh. He took his stepfather Christopher Cain's surname when he and his brother, musician Roger Cain, were adopted by Cain.
3. Vanessa Hudgens
An American singer and actress, Vanessa Hudgen is half Irish. Her mother was born in Manila in the Philippines, and is of mixed descent, making her partly Asian, with Filipino, Chinese, and Spanish roots. The High School Musical star was born in California and has appeared in numerous movies and television series. She has also successfully released several albums.
4. Ne-Yo
Successful American singer, songwriter, dancer, actor, and record producer, Ne-Yo born as Shaffer Chimere Smith is primarily African-American but has Chinese ancestry, which of course makes him partly Asian. Born in Arkansas in October 1979 to a family of musicians, Ne-Yo's mother is an African-American of Chinese heritage.
5. Keanu Reeves
Canadian actor, musician, director, producer, and author, Keanu Charles Reeves was born in Lebanon in September 1964 to a British mother; this entitles him to British citizenship. Though he is a naturalized Canadian, he has an American green card and owns property in the US. From his father's side, he is a quarter Chinese and quarter Hawaiian.
See Also: Top 25 Embarrassing Celebrity Outfits
6. Kirk Hammett
One of the Greatest Guitarists of All Time, American musician Kirk Hammett is half Asian (Filipino) and half Irish. He was born in San Francisco in November 1962 and is the lead guitarist of the heavy metal rock band, Metallica. Hammett, who still lives in San Francisco, is married to his second wife Lani and the couple has two sons.
7. Nicole Scherzinger
Born Nicole Prescovia Elikolani Valiente in Hawaii in June 1978, Nicole Scherzinger is a singer, songwriter, actress, and record producer. Probably best known for being one of the Pussycat Dolls, she is also a former girlfriend of racing driver, Lewis Hamilton. While Nicole's mother, a native of Hawaii is half Russian, her father is Filipino, making her half Asian. Many don't know about this because Nicole decided to use the name of her stepfather, a German American who adopted her when she was a child.
8. Enrique Iglesias
Spanish singer, songwriter, and actor, Enrique Iglesias is part Asian from his mother's Filipino descent. He was born in Madrid and is the youngest child of singer Julio Iglesias who is Spanish with Jewish and Puerto Rican blood on his mother's side of the family. When he started singing, Enrique Iglesias temporarily changed his surname to Martinez, and claimed to be from Guatemala; he did this because he didn't want to be judged in the shadow of his internationally famous father.
9. Kristin Kreuk
Award-winning Canadian actress Kristin Laura Kreuk is also part Asian with Chinese as her ancestry. Born in December 1982, Kristin's mother is part Chinese; even though she was born in Indonesia, her maternal grandmother was Chinese-Jamaican. Best known for her roles in Smallville and the award-winning television series, Beauty & the Beast, Laura's father is of Dutch descent.
10. Tiger Woods
World-famous successful and professional golfer, Tiger Woods is said to refer to himself as "Cablinasian", a supposed abbreviation of Caucasian, Black, American-Indian, and Asian. Woods was born in California to an African-American father, reputedly with a bit Caucasian, Native American, and even Chinese ancestry. His father met his mother in Thailand and she has a mixed ancestry of Thai, Dutch, and Chinese. So when it comes to Tiger Woods, there's no denying he's part Asian.
11. Nora Jones
Grammy-winning singer and songwriter, Norah Jones also falls as one of the famous American celebrities of Asian descent. She was born in New York in 1979 to famous Indian musician Ravi Shankar and concert producer, Sue Jones.
Her parents have a rather interesting story; before her father met her mother, he was married to another musician, Annapurna Devi. However, the two later separated and he began another relationship with the dancer, Kamala Shastri. It was while he was with her that he had an affair with Sue Jones that led to the birth of Nora. Her parents lived together until they separated in 1986 although they were never married.
12. Chrissy Teigen
Teigen is many things in one; a model, writer, TV personality, and the wife of everyone's favorite legendary singer, John Legend. She is also of Asian descent. She was born Christine Diane Teigen in the United States to Vilailuck Teigen and Ron Teigen Sr. While her father is of Norwegian descent, her mother is Thai. Crissy was once embarrassed by her ethnic background, but she has since come over it and is now proud of who she is. She used to wonder who she was, but would always pick Asian.
Her parents were married for many years before they decided to end their union in 2019 when Ron filed for divorce for an unspecified reason. She is close to both of her parents and her father got a tattoo of her on his bicep in 2018 to celebrate her birthday.
13. Constance Wu
Yet another among the American celebrities of Asian descent is Constance Wu who was also born in the United States in 1982. Parents of the Golden Globe Award-nominated actress are both Taiwanese who immigrated into the United States. While her father now works as a biology and genetics professor, her mother is a computer programmer.
Constance Wu is one of the most popular Asian-American faces in Hollywood taking several lead roles. She has appeared in films like Crazy Rich Asians which is the first major film in Hollywood to feature mainly casts of Asian descent. She also features in the sitcom, Fresh Off the Boat.
14. Tyson Beckford
A model and actor, Tyson Beckford is famous as a Ralph Lauren Polo model as well as the host of the American TV series, Make Me a Supermodel. He was born in 1970 to Hillary Dixon Hall and Lloyd Beckford. He is of Asian descent; while his mother is an American national who is also an Afro Jamaican, his father is Panamanian and also of Afro Jamaican and Chinese-Jamaican descent.
After he was born, he lived with his family for some years in Jamaica before the family moved back to the United States. Apart from modeling, Beckford has also made appearances in both TV and feature films.
15. Jhené Aiko
https://www.instagram.com/p/B_GZf9cjcrh/
Born Jhené Aiko Efuru Chilombo, the American singer and songwriter has her roots on her mother's side traced to Asia. She was born in the United States in March 1988 to Christina Yamamoto and Karamo Chilombo. Her ethnic background is one that is interesting as while her father who is of Jewish descent also has Native American, African-American, as well as German-American blood, her mother is of Spanish, Dominican, as well as Japanese descent, making the singer partly Asian.
Because of how mixed her ethnic roots seem, Aiko revealed that she finds it very easy to associate as everything from Asian to black, and everything else.
16. Chanel Iman
The American model has a unique look that has helped her to become one of the top models in the States. One of the famous American celebrities of Asian descent, her looks are further enhanced by the fact that she is also African-American.
She was born in December 1990 in Atlanta Georgia to China Robinson and Tic Price. While her father is African American, her mother is part African American and part Korean, which gives the beautiful model Asian roots. The Victoria Secret model has been involved in many charity activities that cover some African countries including Tanzania, Uganda, and Kenya.
She revealed that she faced racism in her career as a model.
17. Harry Shum Jr.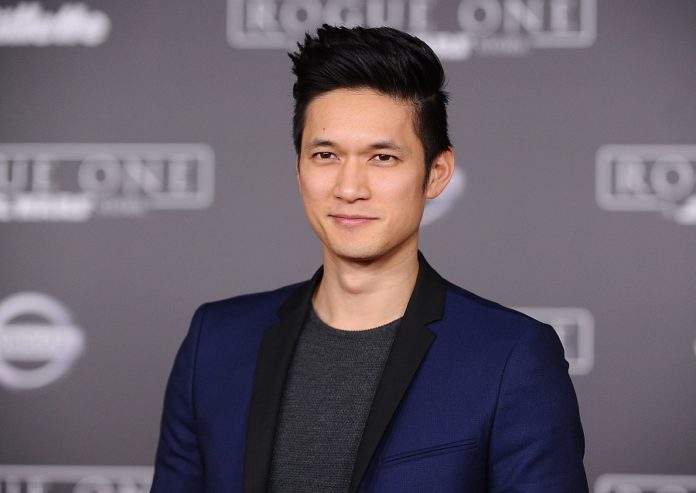 One does not need any special guessing skills to guess that Harry Shum Jr. is yet another of the famous American celebrities of Asian descent; thanks to some of the roles the actor has played in movies including portraying Mike Chang in Glee and then Charlie Wu in Crazy Rich Asians.
Harry Shum Jr. was born on April 28, 1982, in Costa Rica, although it was in San Francisco, America that he spent the better part of his life since he was 7. Also a singer and dancer, he was born to a Chinese father from Guangzhou and a mother who is a native of Hong Kong. He is a man who understands multiple languages apart from English, such as Spanish which was the first language he learned and Cantonese.
18. Bruno Mars
There is also Bruno Mars. Although many may find this surprising, the multi-Grammy winning singer is also of Asian Descent. He was born Peter Gene Hernandez on October 8, 1985, in Honolulu, Hawaii. It was also there that he was raised before later moving to Los Angeles.
He was born to Peter Hernandez and Bernadette San Pedro Bayot. Like a number of other famous Americans of Asian descent, Bruno has a mixed and interesting ethnic background. His father is of Puerto Rican and Ashkenazi Jewish descent with roots from Hungary and Ukraine. On the other hand, his mother is of Filipino and Spanish ancestry. Bernadette left the Philippines when she was still a child for Hawaii.
19. Lucy Liu
A very interesting actress, Lucy Liu has grown to become one of the most fascinating actresses in Hollywood with many films and TV shows to her credit as well as nominations and awards including the Blockbuster Entertainment Award, Teen Choice Award, and Screen Actors Guild Award.
She was born in Jackson Heights, Queens, New York, the U.S. in 1968 to Cecilia Liu and Tom Liu. The parents of the actress were originally from Beijing and Shanghai. However, they later migrated to Taiwan and then to the United States where they met and got married. She was raised in a multi-cultural environment and she speaks Mandarin since she was a child. A true Asian descent, she obtained a degree in Asian Languages and culture. More so, Liu studied martial arts.
20. Randall Park
https://www.instagram.com/p/B-clVF6FCyh/
Actor, comedian, and writer, Randall Park was born in Los Angeles, California in 1974. He has come to be recognized for some of his very interesting Asian portrayals including playing the North Korean dictator Kim Jong Un in the 2014 film, The Interview, and Louis Huang in the TV series, Fresh Off the Boat.
The actor was born to Korean parents who migrate to the States. His father was the first to come to the U.S. but when it was time for him to get married, he decided to travel back to Korea where he tied the knot to the woman who would later become the mother of the actor. Because of this, he grew up with some important Korean values.