Michael Strahan Net Worth: How Much is Michael Strahan Worth
Advertisement
Michael Strahan is a retired NFL player, and a current football analyst, talk show host and entrepreneur. He has a net worth of $45 million.
Strahan was born in Houston, Texas on November 21, 1971. He attended Westbury High School where he played college football in his senior year. Despite playing just one season, he was offered scholarship to Texas Southern University. He racked up collegiate sack records during his 4 years in campus. He was drafted by the New York Giants during the second round pick in the NFL Draft of 1993.
NFL
Strahan struggled a bit in his first season due to injuries, however, his breakthrough came in 1997 when the defensive end recorded 14 sacks, he was also voted into his first Pro Bowl the same year. In 2001 he set an NFL record for the most single season sacks- 22.5, he was also named the NFL defensive player of 2001. He has been named the NFC Defensive Player of the Year twice and has been selected 7 times for the Pro-Bowl.
In 2007, his last season as a professional football player, Strahan won the Super Bowl with the New York Giants. On June 2008 he retired at the age of 36. His 14-year career brought him $60 million in salary alone, his biggest year was in the 2002/2003 season when the Giants paid him $20.6 million. Strahan was inducted into the Pro Football Hall of Fame in August 2014.
TV Host
After retirement, Strahan became a media personality. David Hill, who was the then CEO of Fox Sports Media Group signed Strahan to a contract as an analyst on Fox NFL Sunday pregame show. In 2010, Michael hosted American syndicated morning talk show "Live! with Regis And Kelly" with Kelly Rippa due to Regis Phiblin's absence, after Regis left in 2011, Strahan was selected as a replacement. Due to the replacement, the show was rechristened to "Live with Mike and Kelly" Michael's presence on the show saw its ratings surge instantly.
His other TV host gigs include home improvement show, "Backyard Stadiums" on the DIY Network, "Pros vs. Joes" on Spike TV,. From 2014 he became one of the contributors and co-anchors on Good Morning America. Strahan makes $10 million annually for his host duties.
Advertisement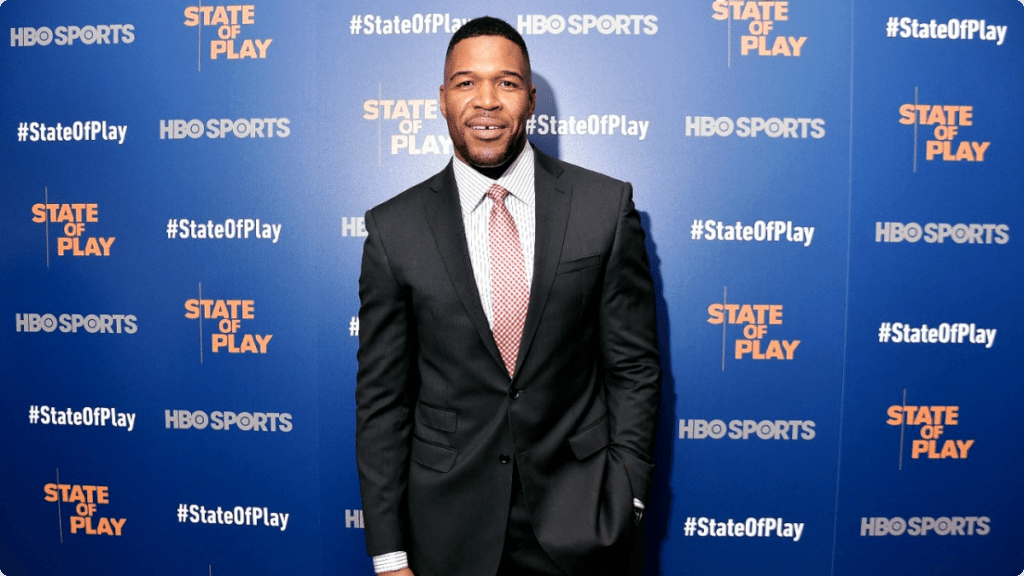 Michael was involved in the production of the sitcom "Brothers" (September 2009 –  December 2009) which he also starred. He has also starred in movies including "Magic Mike XXL" (2015).
He has had endorsement deals with Vaselin Men for which he did a commercial, others include Meta, and a line of wellness products by Procter & Gamble.
Michael launched a new men's clothing line, "Collection by Michael Strahan" through J.C Penney, in 2015. The collection includes: men's suits, sharply tailored pants, fitted belts, colorful ties, blazers, dress shirts, suspenders, and coats.
His book "Wake Up Happy" was released in 2015
Michael bought a house in 1997 worth $163,000, and another worth $1,300,000 in 2000. He sold his Bel-Air mansion in 2013 for $11 million. He had sold another mansion as part of his divorce settlement with Jean Muggli. His share was $1.8 million.
Advertisement